Blog
The Future of the Value Network
Eric Green, VP of User Experience, Advocacy, & Marketing at DELMIA, Dassault Systèmes discusses the future of the Value Network originally published in Machine Design, March 2019.
Here's an excerpt:
The world of making is changing, and businesses are digitally transforming from mass production to mass customization as consumers' demand individualized, emotional experiences. New technologies such as 3D printing, artificial intelligence (AI), and the Internet of Things (IoT) are starting to significantly impact how products or experiences are designed and manufactured.
Meanwhile, social apps, Big Data, and the Cloud are creating opportunities to interact with and understand the consumer in totally new ways. So how do we bring these new data streams and technologies together to produce meaningful business insights?
The key to leveraging the power of these new technologies and the data they generate is finding a way to connect individuals, machines, and processes across the entire manufacturing supply chain, which can now reach from raw materials to consumer interaction. This broader expanse requires shifting away from a linear supply chain to a dynamic network, which enables synchronization and integration of all manufacturing operations and supply chain activities. Achieving this requires digitalization of information and a platform that enables this level of collaboration.
Read the article in its entirety originally here: https://www.machinedesign.com/3d-printing/why-digital-factory-future-will-be-driven-value-network
How Are Robots Changing Warehousing and Distribution?
Starting with Amazon
Amazon is one of the biggest retailers in the world. In 2018 it came second only to Walmart, and that is in large part due to the tens of thousands of robots it utilizes in its warehouses. As of Jan. 1, 2017, more than 30,000 robots were being used for order fulfillment in its facilities around the globe. Adding robots to its fulfillment chain has saved the company millions of dollars since their introduction. According to reports, in addition to saving time and reducing the space needed for warehouses, introducing robots to its supply chain has saved Amazon nearly $22 million.
The Kiva robots that the retail giant is using were not inexpensive — Amazon bought the robotics company in 2012 for $775 million.
Robotics seems to be working well for Amazon, but it isn't the only company that is utilizing this resource for distribution logistics.
Mujin
Amazon might have 30,000 robots in its warehouses, but it still has roughly 230,000 human employees. Mujin's warehouse in Tokyo doesn't have any employees at all. The warehouse prototype showcased at a trade show in Tokyo is designed to automate a warehouse through the use of robotics completely.
During the showcase, robotic arms were used to unload a mockup of a shipping container and move products throughout the prototype warehouse. The display wasn't perfect — one of the demo boxes was damaged during the performance — but the proof of concept is clear. Mujin is working toward full warehouse automation for both Japanese and international warehouses.
Fetch Robotics
AMRs — autonomous mobile robots — are becoming more popular in warehouse and distribution industries. Fetch Robotics, based in San Jose, California, has developed a series of collaborative AMRs for use in warehouses. These modular robots use cloud-based software to control the robots as they move throughout the facility, tracking inventory and moving it as needed.
Fetch's AMRs are currently being used around the world. A DHL distribution center in the Netherlands, a Mahle Behr facility in the U.S. and RK Logistics in San Francisco have all adopted Fetch's AMRs.
Exoskeletons
We might have all dreamed of being Iron Man at one time or another, but while robotic exoskeletons might not be able to fly, they're starting to appear in warehouses and distribution centers around the globe. These robots do have to be worn by a human, but when paired with an operator, the exoskeleton enables people to lift incredible weights while protecting them from lifting and repetitive stress injuries.
Overexertion is one of the leading causes of work-related injuries in the world, costing companies more than $49 billion every year. Exoskeletons that exist currently have carry capacities of around 200 pounds. Implementing this kind of robotic technology is expensive, but it potentially saves companies millions of dollars in the long run.
Applications of Robotics
Robotics can be applied to nearly every step of the production process, from assembly and welding to computer manufacturing and material handling. They've been part of the manufacturing industry for decades, since the first robotic arm was patented in 1954. It's only in recent years that the technology has advanced enough that we can incorporate it into warehouse logistics.
Material handling, in this case, can work to protect employees from overexertion injuries and increase operational efficiency, whether your warehouse is leaning toward a lean operating model or is merely trying to increase productivity.
Robotics in warehouse and logistics are still in their early stages of innovation, but the strides that have been made thus far are promising. Logistics robots aren't perfect yet, and they may never wholly replace warehouse workers, but they could prove to be useful tools for increasing warehouse efficiency.
With e-commerce becoming one of the most significant sources of retail sales in the world, retailers will need to make changes to keep up with the demand. Once these logistics robots are ready for large-scale applications, they will likely change the face of warehouses and distribution.
Preparing to Integrate IIoT: How can controls, automation, and instrumentation help with integration and use of Industrial Internet of Things (IIoT) technologies? (Part 2)
This is the second of a two-part series on the integration and use of IIoT technology.
Potential Challenges and Hurdles
Integrating new technologies into existing environments can present unique challenges to overcome. While connecting legacy equipment and systems offers potential big benefits and is an important step in the IIoT initiatives at many industrial companies, the hurdles to implementation can be notable in the process.
Having said that, many companies are making important strides in this area. How are they doing it? One of the challenges they faced in the presence of legacy machines was the lack of connectivity built into legacy machines. Companies are now adding stand-alone sensors and cameras to existing environments and devices to monitor and collect data about performance and health in new ways, like attaching the sensors directly to the existing devices and connecting new gateways to securely collect and transmit the data, which is then analyzed and used to help boost various areas of the business while preventing failure and downtime.
One of the lingering questions being, If legacy machines don't have sensors and automation controls built into them today, how can they be attached in a cost-effective manner? The following answer would enable teams to begin measuring things like vibration, temperature, climate, dust in the air and other factors that are useful for quality environments where the machines are deployed. Cameras also can play a big role, enabling the monitoring ability of team members through a common platform to tap open a video and get a real-time sense for where a machine is and how the operation is functioning.
Platform Strategies
With the increased integration of global intelligent manufacturing, companies are turning to IIoT architecture as the core of the platform strategy to ease integration. Various companies are designing solutions as a three-layer architecture, offering neither an IIoT platform nor simply an industrial cloud platform, yet a fully connected system.
● Bottom Layer: this would include various hardware products with interconnectivity capacity, like gateways and more.
● Intermediate Layer: this would take care of edge point control.
● Upper Layer: this would comprise various applications, analytics, and services for decision making capabilities.
The system works together and these three layers are not mutually independent. The reality is that IIoT only can be realized through intercommunication of these three layers regarding information, data, communications, and applications, and in these cases, software platforms at the operating system level are needed to support and connect the three-layer architecture.
Conclusions and Next Steps
As more hardware devices go online, more opportunities abound for engineers to assist with the integration and novel use of controls, automation, and instrumentation across industries. Following the simple steps of assessing company assets and capabilities, to reviewing potential benefits and ways to ease integration can benefit the whole enterprise.
Feel free to share your ideas in the comments section below. We look forward to hearing about your unique experiences and ideas for the integration of IIoT today.
Continue the conversation by joining our DELMIA Communities on 3DSwYm. Membership is free.
Learn. Connect. Innovate. Join Us at the DELMIA Community Summit!
You asked and we listened! We are now expanding our DELMIA Community Summit beyond customers to include those who are interested in learning more. Join us at the DELMIA Community Summit May 16th at Caesars Palace in Las Vegas. This event brings together DELMIA customers, DELMIA technical experts, partners and more for a day of networking, sharing and innovation. Who doesn't need that? Participating DELMIA customers will get even more immeasurable benefits: the opportunity to knowledge-share and learn how other customers are using DELMIA solutions; the benefits they have achieved; plans for future innovation, and much more. Additionally, you will have the opportunity to experience live solution demos and engage with DELMIA professionals through interactive sessions and networking events.
Need another reason to attend? As you know, a digital experience platform allows manufacturers to visualize and control in the virtual world what cannot be seen in the real world. In fact, our digital experience transforms supply chains into digital value networks and empowers the talents of the workforce of the future by capturing, delivering and re-using knowledge and know-how to enable new categories of sustainable solutions. To keep the pace of the industry, manufacturers need to be faster, more integrated and more agile than ever. Our DELMIA experts will show you how.
Be a part of one of our biggest events and take advantage of the opportunity to network with a plethora of industry influencers. Don't miss out! Join us for innovative key topics including DELMIA 2019, DELMIA Digital Manufacturing, DELMIA Manufacturing Operations Management, and DELMIA Planning & Optimization.
The DELMIA COMMUNITY SUMMIT will be co-located with the Dassault Systèmes 3DEXPERIENCE FORUM, which will take place May 13-15 at Caesars Palace. Take advantage of these two events to learn how to evolve your company in a global Industry Renaissance.
Check out the agenda and Register today! http://go.3ds.com/AXX
Join our DELMIA Communities on 3DSwYm to connect with DELMIA users and technical experts.
Preparing to Integrate IIoT: How can controls, automation, and instrumentation help with integration and use of Industrial Internet of Things (IIoT) technologies? (Part 1)
This is the first of a two-part series on the integration and use of IIoT technology.
As advances in technology make it more cost-effective to deploy IIoT, industries will need to acquire a strategic approach to integrating new sensor data with pre-existing data environments.
Now, more than ever, industries are seeking simple integrations with controls, automation, and data analytics visualization software to harness the power of the Industrial Internet of Things and realize attractive operational and competitive benefits for their business.IIoT can unite people and systems on the plant floor with those at the enterprise level, and enable users to get the most value from their automated systems while reducing technological and economic limitations. To ensure successful deployment of the IIoT, industrial organizations can benefit from embracing new network design infrastructures, including developing a reliable framework that supports collaborative work processes across functional lines, as well as between internal and external resources.
New systems to integrate IIoT
Processes, digital devices and business systems can support implementation of the Industrial Internet of Things, from small companies new to the IIoT potential up to large industries that can benefit from adding new sensors into their present systems for internal and external assets. From laying the foundations to help guide future technology investments to easing the integration of the current systems with new controls, automation and data processing benefits, there are ways to help smooth the process and transition for getting the desired results. When looking at new systems for IIoT implementation, it is recommended to examine the following seven areas for benefits:
Assess the Baseline: Look at assets, processes, data collection, analytics, and real-time visibility to assess the ability to predict and detect issues and opportunities; for example, what type of sensors, cameras and other instrumentation is available to make use of available data tracking potentialities?
Boost the Capabilities: Use machine learning, Big Data, and automation technologies to create an über-system that can accurately and consistently capture, analyze, and transmit data with visualized dashboards for operations management.
Integrate the Potential: Employing open integration and communications technologies can help connect data from varied sources on the way to extracting meaningful value for decision-making. This can include software that brings high fidelity data from disparate operational sources to people in all corners of a clients' enterprise – wherever, whenever and however it is needed.
Consolidate Data: Look to centralizing data in the Cloud with new applications that connect multiple disparate systems, applying higher level analytics and leveraging expertise with the benefits of being physically remote from the operating site.
Make it Visual: Consider employing cloud-based applications that add value, such as advanced process control (APC) monitoring, condition-based monitoring (CBM), enterprise data historians, mobility solutions, and planning and scheduling tools. This new instrumentation can help facilitate real-time decision making plus allow long-term data tracking for precise adjustments.
Re-define Teamwork: With these new controls and automation tools, look to define how functional groups can work together and how to enable smart collaboration across the organization using IIoT advantages; this may include sharing data in operations, maintenance, system reliability, supply chain management, and other potential synergies.
Make Alliances with the Experts: Stay flexible with new updates and demographic changes using technology tools and collaborations with third-party experts that understand industrial automation, process data, and control-related issues across the enterprise. Traditional information technology (IT) providers may not offer that depth, and the potential for niche integration consultants is ripe for growth.
Continue the conversation by joining our DELMIA Communities on 3DSwYm. Membership is free.
What Role Does Monitoring and Predictive Maintenance Play in Manufacturing?
In the manufacturing industry, equipment maintenance is integral to keeping your company running. If a piece of equipment fails, the downtime is expensive — both in equipment repair costs and lost production time. Depending on how much you produce in an average day, a single hour of downtime can cost you anywhere from $1,000 to $10,000 or more. Monitoring and predictive maintenance can help you keep everything moving smoothly. What role do these two tools play in manufacturing?
Predictive Maintenance vs. Preventive Maintenance
Before we get into predictive maintenance and monitoring, we do need to address a different form of maintenance — preventive. Preventive maintenance is merely the practice of fixing small problems before they become big ones. Changing the oil in your car according to the manufacturer's recommendations is preventive maintenance. You probably already have a schedule in place for preventive maintenance for each piece of equipment — replacing belts, changing oil or grease and inspecting each moving part for signs of wear and tear that could indicate the beginnings of more significant problems.
Predictive maintenance, especially when paired with monitoring, takes preventive maintenance to a whole new level.
What Is Predictive Maintenance?
You most likely already have a maintenance schedule in place for going over each piece of machinery on your production floor to help keep everything running. Each piece has its manufacturer-recommended maintenance schedule, and keeping up with that can prevent any unscheduled downtime. Sometimes, though, equipment fails. What if you could predict those failures and fix the problems before they take your production floor offline?
That's where predictive maintenance comes in.
A predictive maintenance algorithm examines your maintenance and repair history, using data you've collected over months or years. It's programmed to look for patterns human observers might miss. These patterns can indicate when a piece of equipment might fail outside its regular maintenance schedule. With enough information, these programs can even predict future failures.
Remote Equipment Monitoring
While predictive maintenance can help you predict equipment failures, these algorithms are only as good as the data they have to work with. That's where monitoring comes in.
Wi-Fi-enabled monitoring can help you keep track of the state of your equipment in real time. You can check any machine at any time from a computer or even from a smartphone. These sensors can also feed data directly into your predictive maintenance system, providing more accurate information than you can obtain by putting the info into the computer manually after regular repairs.
Benefits of Monitoring and Predictive Maintenance
Why should you consider investing in a monitoring and predictive maintenance system for your plant?
As we've already mentioned, downtime is costly. Any unexpected equipment failure could potentially cost you thousands of dollars while you wait for a repair. A predictive maintenance and monitoring system improves the reliability of your plant, keeping the machines available and making them safer for workers to use.
This kind of regular monitoring can also prevent or lessen regular downtime. You won't have to take machines offline to inspect them if they have onboard monitors, because someone is always able to watch them. You will still need to bring them offline for regular maintenance, but inspections no longer need to result in downtime.
Investing in this new hardware and software can also help prevent catastrophic failures, which could result in even more expensive repairs or even equipment replacement.
Keeping your equipment running smoothly and reducing downtime will improve your productivity and workplace efficiency.
Predictive maintenance and monitoring are two more tools you can slip into your manufacturing toolbelt to keep your process running smoothly. Instead of waiting for your equipment to fail, or spending a lot of time with it offline so you can inspect the machine, you can use monitors and software to predict problems before they cause the equipment to break down.
The goal here is to keep your machines online as long as possible. With this hardware and software installed, you don't have to shut down the equipment to keep a close eye on it. Installing predictive maintenance and monitoring systems can take some time and some getting used to, but it can save you thousands of dollars in repair and downtime.
Inventory Optimization in the Supply Chain
Every company wants to have the right amount of the right inventory in the right place at the right time, and that has been the primary focus of Material Requirements Planning (MRP) software and its successors and descendants including Enterprise Resource Planning (ERP), and Distribution Requirements Planning. Traditional planning systems use traditional logic that calculates a time-phased replenishment plan. But very few professionals have been totally satisfied with the MRP approach. While the MRP approach does develop a reasonable and logical plan that's far better than guesswork, min-max, or order point strategies, it is entirely dependent on the accuracy of the forecast and does not recognize or react to anything outside of the "normal" – like supply chain disruptions, delays in production or distribution, or changing costs, availability, or priorities.
Optimization (for a more general discussion of optimization see the previous blog, Why is Optimization Important for Supply Chain Planning? ) is designed to take those dynamic factors into consideration by comparing different strategies in order to determine a "best" approach among all the alternatives. The user sets the priority by defining what "best" means – lowest overall cost, best customer service, minimum transportation cost, staying within warehouse capacity limits – or more likely some combination of these. Lowest overall cost to maintain 95% service level without exceeding warehouse capacity anywhere in the network, for example.
The system will then try many, many different combinations of replenishment opens (quantity and timing), transportation choices (truck is faster but rail is cheaper), warehouse inventory strategies (it's more economical to store a larger quantity at a feeder warehouse serving more distribution points but transportation costs will likely be higher and customer service will suffer), and other trade-offs to find the best combination within whatever restrictions may exist – like warehouse size or container volume limits.
Understand, of course, that all these factors are changing constantly. Fuel and transportation costs are notoriously volatile as are taxes, duties, and capacity availability. Likewise, customer demand is always changing, often unpredictably, and there are those supply chain disruptions mentioned previously. The good news is that optimization routines can be rerun as often as you like. Even though you don't want to be changing strategies minute-by-minute, it's really useful to see the impact of any disturbance that takes place and be able to quickly identify and react to an issue that might affect customer service…and to know the best way to react.
Inventory optimization in the supply chain is focused on where to hold inventory in the distribution network to deliver the desired level of customer service at minimal cost within any limits or restrictions that exist. That may mean that some items are stored in larger quantities closer to the source and distributed in smaller quantities more often down the chain while others are more likely to be held closer to the customer for quick delivery. Optimization brings all those considerations together in a comprehensive plan that delivers the desired performance at minimal cost.
This post originally appeared on Navigate the Future, the Dassault Systemes North America blog
Continue the conversation by joining our DELMIA Communities on 3DSwYm. Membership is free.
The Value of Simulation for Collaborative Robots – Part 2
This is the second of a 2-part series on Cobotics simulation.
In a previous blog I introduced the concept of Cobotics, or the use of Collaborative Robots and described the benefits of cobotics work cell simulation which include:
Secure accessibility for both humans and robots
Secure human tasks using ergonomics validation
Human / robot interaction validation
Optimum production capacity
Human safety compliance
This article will introduce Virtual Commissioning and how it increases the value of Cobotics and more generally, the production work cell.
What is Virtual Commissioning?
First, some numbers:
75% of projects exceed the final budget
30% of projects are delayed, leading to additional cost and lost sales
60% of commissioning time is used to identify and eliminate problems with control software, protocols, and integration.
On the other hand, in a robot work cell:
1/3 of the time is dedicated to the component set-up and tool tuning (mechanical domain)
1/3 of the time is used by the robotics engineer to set-up the robot program and trajectory
1/3 of the time is used by the programmable logic controller (PLC) programmer to complete the global work cell availability
For security reasons, it is impossible to have these three teams physically working together in the cell. Consequently, because some companies split the day into three shifts to have engineers working consecutively, delays in work cell set-up are increasing.
Fortunately, there are solutions
Offline Programming – decreases the time needed to work physically in the work cell by programming  the robot trajectory in a robotics simulation software
Virtual Commissioning – a realistic and intelligent virtual run-time environment for Control Engineers to debug and validate PLC programs prior to physical build
How Co-Simulation for Virtual Commissioning is possible
The co-simulation environment is composed of two domains:
The work cell is designed in a 3D environment. Robots, machines, and humans are animated, and sensors are modeled and can simulate with maximum accuracy in terms of performance, reachability, and collision-detection based on the device program and input/output.
The definition PLC environment is able to emulate different PLCs available on the market or be connected with a real PLC (hardware in the loop)
Between these two domains, a dedicated fast speed connector is provided that allows real-time communication both ways – orders are sent from the PLC environment to the work cell device and simulation information is sent back from the work cell simulation (sensors information, robot program status, etc).
Thus, all 3D devices are directly controlled by the final PLC program and can realistically simulate the complete behavior of the work cell.
There many benefits of Virtual Commissioning
Reduce the risk of errors and damage during ramp-up
Improve the quality of delivered PLC code by validating all possible scenarios including non-nominal mode (on average, 80% of the code is dedicated to addressing non-nominal mode)
Simulate equipment failure (sensors) and validate the PLC code to address these type of events
Validate all safety monitoring scenarios
Reduce immobilization of the work cell and reduce debug time and costs at the customer site
The Value of Virtual Commissioning for Cobotics
Obviously, virtual commissioning can be used with the same value because human interface can be modeled and human interaction can be simulated.
Another value is to provide a virtual environment for workers to train in safe conditions and at full capability. It can also validate all scenarios including human error and device failures.
A New Perspective
Imagine putting yourself in the shoes of a worker working with a cobot!  What can be better than being able to:
Validate a process thanks to an immersive, human-like experience
Train for dedicated tasks
Be reassured in front of a cobot
Be convinced that this robot is, in fact, more than a robot and can become a partner
Coupled with simulation, this technology helps to provide a smooth transition by introducing robots in the virtual world.
Conclusion
To summarize, simulating a cobotics work cell provides:
A collaborative work cell layout design
Ergonomics in the same environment
Human safety validation
Production performance simulation
Offline programming, Virtual Commissioning
Worker training
An immersive experience
New collaborative equipment design
Simulation of collaborative robots develops your imagination and can accompany you to the next level – an industrial transformation process.
Continue the conversation by joining our DELMIA Communities on 3DSwYm. Membership is free.
Steel and Aluminium Tariffs Will Impact Manufacturing Well Into 2019
While we may have avoided a full-blown trade war, the tariffs on steel and aluminum are still in place, which makes it more difficult for companies that rely on these two metals to continue to work in the current economy. How will these tariffs continue to impact the manufacturing industry into the next fiscal year?
What Are These Tariffs?
These tariffs date back to 2017 when the current presidential administration announced that they were planning on restricting the import of certain materials from outside the United States. Most of the manufacturers in the states were against these new taxes because of the negative impact it would have on the manufacturing industry. Steel would be subjected to a 25 percent tariff, and aluminum would have its price raised by 10 percent.
Tariffs have been implemented at various times throughout history, so they aren't a new concept. However, these are the first of the Trump Administration.
Who's Affected and Who Isn't?
These tariffs wouldn't affect everyone, such as imports coming from Canada or Mexico because of their shared borders. In addition to Canada and Mexico, other countries that are exempt from the steel and aluminum tariffs include Australia, South Korea, the European Union (EU) and Argentina.
The exact effects of these tariffs remain to be seen, but for example, if the exemption is not renewed for the European Union, the impacts could be far-reaching. Steel manufacturers in the European Union would likely have to change their manufacturing techniques to reduce costs and ensure profits are sustainable. Additionally, should the EU lose its exemption, about $7.8 billion in U.S.-imported goods might face taxation.
China and Japan are two of the countries that are not exempt from these current tariffs, and it nearly launched a full-scale trade war between the United States and China as a result. That has been avoided for now, but the tariffs are still in place — and the two countries continue to go back-and-forth with updated lists of taxed items in response.
The Estimates: $10 Million and Climbing
Experts are estimating that these tariffs could cost U.S. based manufacturing companies more than $10 million over the next five years. This will impact companies across a variety of industries. Directly, it will affect companies that are using steel and aluminum to create their products, leading them to pass those costs on to their customers. Ford and GM, both U.S.-based car manufacturers, are expecting to have to pay more than $1 billion in extra tariff costs. On a broader scale, it will also impact the buying power of companies and consumers that rely on metal products to run their businesses or make their lives easier.
When it comes down to it, everyone is going to pay more, either directly or indirectly, because of these tariffs, and it doesn't look like they're going to be going away anytime soon.
The automotive industry may be getting some relief, though. Unofficially, word has come down the pipe that the president may be planning to scrap the 25 percent tariff that he was planning to implement on imported cars and car parts.
What Can Be Done to Adapt to the Tariffs?
If the tariffs aren't going away quickly, it's up to manufacturers to adjust to these new expenses. One option that is being explored in Europe and could be adapted in the United States is the idea of reusing waste heat to reduce other costs. The steel industry especially relies on generating a lot of heat, and much of it is wasted or directly released into the atmosphere.
Instead of letting this heat go to waste, it could be collected in heat pipes to be used to generate energy which could, in turn, lessen fuel costs and offset the increased cost of steel and aluminum.
For now, at least, these tariffs are here to stay, and they will continue to impact the manufacturing industry for the next year, and possibly even longer into the future. Companies will need to adapt to these new tariffs to be able to maintain their profit margins while preventing a substantial increase in their prices. Most of the previous import tariffs didn't last — President Bush's taxes were put into place in 2002 and only lasted until 2003, for example, so this may be just another thing that manufacturing companies need to ride out until the current tariffs have been lifted.
Continue the conversation by joining our DELMIA Communities on 3DSwYm. Membership is free.
Making an Impact at the Women in Manufacturing Annual Summit – Dassault Systèmes sponsorship helps to provide a platform for women to plan their manufacturing career success
A skills gap is on the horizon in the manufacturing industry—and women are a rich, under-utilized source of talented workers. Key to bridging the impending chasm is the ability for organizations to engage and promote women, an idea wholly supported by one of the industry's leading networking groups, Women in Manufacturing (WiM).
The work of influencers to effect positive change could be seen and experienced this month at the 8th Annual WiM Summit, where sponsors such as Dassault Systèmes helped to provide a platform to expand women's participation and influence in the industry. Held this year in Indianapolis, Indiana, the summit changes location every year, moving around the country to maximize participants' opportunities to develop a diverse and broad network in manufacturing.
According to Angela Regan, Dassault Systèmes' Global Director of Business Development for the DELMIA brand and chairperson of the Massachusetts chapter of WiM, the summit is a highly motivating experience that happens at the end of the summer, after a traditionally busy and exhausting season in manufacturing. "Women go to this event to get the wind beneath their wings. We get re-energized." Regan has seen firsthand how the workforce gap will affect the industry in the near future. "This is a critical issue. A significant amount of effort must be made in order to shore up and expand the pool of talent available to our industry."
Making an Impact
This year, one theme dominated at the summit: Making an Impact. From keynote presentations to breakout sessions and plant tours, presenters covered a broad spectrum of topics that spurred attendees to ask themselves: In what way do I want to make an impact in my career? How can I accomplish those goals?
Among the unique and practical ways to explore these questions were sessions on crisis management and how to recover from significant business interruptions and professional goal-setting. Ellen Van Ousten, a professor at Case Western University and instructor of the WiM leadership certification program considered the role of emotions and how to leverage them in leadership and life. Another session led by Betsy Berkhemer-Credaire, CEO, 2020 Women on Boards encouraged women to spur change by serving on corporate and non-profit boards where they have the power to make or influence decisions.
Dassault Systèmes' Sponsorship
Dassault Systèmes participated in this year's summit by providing transportation to and from the plant tours. Participants from the summit visited Praxair Surface Technologies, Major Tool & Machine, Fastenal Company, Crown Equipment, Rolls Royce and Salesforce.
As an MC for the break-out sessions, Regan introduced various speakers, including Cindy Bolt, Senior Vice President for Salesforce Industries, who leads a global industry strategy team for the Manufacturing, Automotive, and Energy sectors and discussed the important role that women play in the fourth industrial revolution. Other influential speakers included Molly Ford, Senior Director of Global Equality Programs at Salesforce, who inspired attendees with her recommendations for millennials looking to take on the world: first, do your job well and succeed, then people will listen to you.
WiM at Work
A frequent and enthusiastic attendee at WiM events, Regan reminisces about what she's learned through her participation with the organization over time—important ideas she needed to hear and learn in order to grow at different points in her career.
"When I was first asked to come to this event, I found myself sitting in a conference room listening to women who, in addition to being Dassault Systèmes' customers, quickly became incredible role models for me." Regan's relationship to WiM has grown to where she now participates on panels to inspire new recruits and works alongside members to promote each other's manufacturing careers.
At WiM events, Regan wears two hats, as a representative of Dassault Systèmes, and a promoter of Women in Manufacturing. "With my Dassault Systèmes hat on, I'm always interested in discovering where our customers are in implementing a digital journey for their organization. That said, the nature of WiM events—in which women are there to support each other in their careers—allows me to have a more bonded interaction with people who happen to be prospects or customers. We're all there to help each other. I'm there to create an ongoing relationship with a network of women I'll be connected with throughout my career."
Creating New Opportunities
In her role at Dassault Systèmes, Regan has created opportunities for WiM to share specific ideas and strategies for engaging women by leveraging and reaching out to the company's network of customers.
Through Regan's efforts, WiM President and founder Alison Grealis will speak at COExperience in New Orleans in 2019, an event created by an independent community group utilizing the Dassault Systèmes suite of solutions. Grealis will identify specific ways women can help to fill the skills gap in manufacturing for these active and engaged users and customers. Grealis will also serve on a panel to discuss women's roles in digital manufacturing at Dassault Systèmes' upcoming Digital Manufacturing Symposium. At both events, Grealis will have the opportunity to introduce her organization to the many Dassault Systèmes' customers in attendance, while showing how they can get women to take on important manufacturing roles at their own organizations.
Now that you've read about the platform and resources WiM provides, take a deeper dive by exploring the other articles in our series on Women in Manufacturing. Learn the perils of the coming skills gap and read a fascinating interview with Alison Grealis, President and Founder of WiM.
Continue the conversation by joining our DELMIA Communities on 3DSwYm. Membership is free.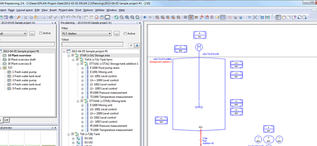 Innsamle, evaluere, administrere spesifikasjonsdata
Eplan Preplanning fokuserer på grunnleggende ingeniørarbeid - den kommende planleggingsfasen før klassisk detaljert ingeniørarbeid. Prosjektdata kan overføres inn i Eplan-plattformen tidlig i prosessen uten uregelmessigheter. Her kan data forbedres videre, administreres og behandles.
les mer...